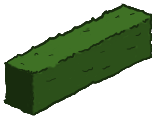 A nice bush hedge to help partition your farm.

Level Required: 7
Size: 1x5
Description: N/A
Cost: 1,000 Gold
Life Force: +5
XP: +10
Text: Makes a great partition for your farm. Also a popular item for a garden maze.
Trivia
Given Life Force was 4 before Version 0.84
can be turned white by selecting it with the move button not moving it and switching back to the cursor
Ad blocker interference detected!
Wikia is a free-to-use site that makes money from advertising. We have a modified experience for viewers using ad blockers

Wikia is not accessible if you've made further modifications. Remove the custom ad blocker rule(s) and the page will load as expected.