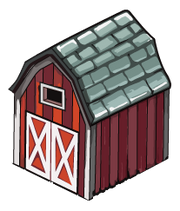 McDonnell's Barn
is the eighth
storage item
. If invading
Old McDonnell
wasn't harsh enough, now you've got his barn too!

Level Required: 26
Size: 4x4
Description: +8 more storage slots
Cost: 350,000 Gold
Life Force: +9
XP: +1,750
Text: N/A
Total slots: 64
Other notes: It comes with Version 0.81
Trivia
Given XP was 3,500 before Version 0.84
This is the most expensive item currently in the game.
If you were to convert Brains into Gold to pay for this, you would need about 245 Brains in total.
Ad blocker interference detected!
Wikia is a free-to-use site that makes money from advertising. We have a modified experience for viewers using ad blockers

Wikia is not accessible if you've made further modifications. Remove the custom ad blocker rule(s) and the page will load as expected.