Mystery Boxes were added in Zombie Farm on 26th June 2012 via Version 2.04 (ZF2) . They come in three 'types';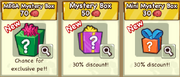 | Name | Cost (Brains) | Description |
| --- | --- | --- |
| Mini Mystery Box | 30 | 30% Discount |
| Mystery Box | 50 | 30% Discount |
| MEGA Mystery Box | 70 | Chance for exclusive pet! |

There are all sorts of new items in these boxes such as Jeeps and other items. You have a chance to get a Corgi in the Mega Mystery Box ONLY. Once you have received your item it will be in the "Received" section of your Storage. (Except for Pets, they are in the "Pets" section).
Trivia
They were added in Version 2.04
Its unknown if they are only available in Version 2.04.
Ad blocker interference detected!
Wikia is a free-to-use site that makes money from advertising. We have a modified experience for viewers using ad blockers

Wikia is not accessible if you've made further modifications. Remove the custom ad blocker rule(s) and the page will load as expected.