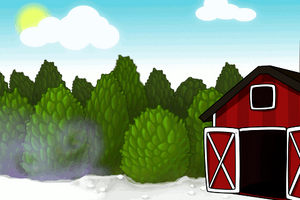 This invasion is the Christmas edition of Old McDonnell's Farm!
It is a limited, christmas inspired invasion, to give you Christmas feeling. The land is snowy, the spoils and thrown items were changed and even the backgound music.
This 'skin' was available only in Version 0.82.

This page will only shows the differences.
Minions
| | |
| --- | --- |
| Farmhand | Lumberjack |
| | |
Old McDonnell
Old McDonnell in Santa suit!He is just like Santa claus but only he wears a ragged one.
| | |
| --- | --- |
| Speed: depends [verification needed] | |
Spoils
In addition to the spoils shared by all enemies, beating Old McDonnell has several unique spoils:
Other
Back to the standard Old McDonnell's Farm.
Ad blocker interference detected!
Wikia is a free-to-use site that makes money from advertising. We have a modified experience for viewers using ad blockers

Wikia is not accessible if you've made further modifications. Remove the custom ad blocker rule(s) and the page will load as expected.