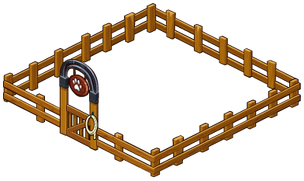 Pet Pen
is a place to store and show off your pets! You can add more than one pet in there but there is a limit of 5 pets per pet pen, (You can buy more!).
Name: Pet Pen
Type: Pets
Cost: 200 Gold
XP: +2
Game?: Zombie Farm 2 (ONLY)
Trivia
It can hold up to 5 pets at once
It was added in Version 2.04
Ad blocker interference detected!
Wikia is a free-to-use site that makes money from advertising. We have a modified experience for viewers using ad blockers

Wikia is not accessible if you've made further modifications. Remove the custom ad blocker rule(s) and the page will load as expected.