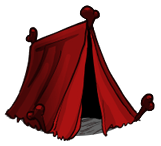 A red version of
Tent
.

Level Required: 1
Size: 4x4
Description: N/A
Cost: 1 Brain
Life Force: +16
XP: +50
Text: It's nice and dry inside. Great for those zombie camping trips
Trivia
The Red Tent is oddly the only tent that is purchased in Brains instead of Gold.
From Version 0.82 [verification needed] this item is no longer available in the Market.