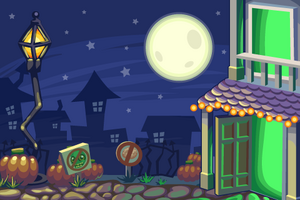 "The mean ol' vampire, Count von Uberbiss, is thowing a Halloween party and your zombies ain't invited! It's time to crash that party!"
General
Requirements: Level 8
Population: 8
Winning: Your zombies had a monstrously good time at the Count's party!
Loot: Standard loot includes 3 different coffins, and a haunted clocktower. Once you complete one of the tasks, you will get a spooky tree. The special loot is a boiling witch's cauldron.
Losing: ???[verification needed]
Gold ( Without casualties ) : 1200
Possible Bonus Gold : 600
Minions
Wierd Mummy Guy
Flower Golem
power: 3.5
Life: 8
Speed: 2
Attack: double hand smash
special: push away zombies
Goblin Girl
Chance: 35%[verification needed]
Power: 4
Life: 8
Speed: 1
Attack: laser moving
Count von Uberbiss
Throwing: Skull, Pumpkin, Candy corn
Throwing speed: 1 item / 1 sec
Summoning: Pumpkin tower
Spoils
In addition to the spoils shared by all enemies, beating the Halloween invasion may give you several unique items:
Others
Ad blocker interference detected!
Wikia is a free-to-use site that makes money from advertising. We have a modified experience for viewers using ad blockers

Wikia is not accessible if you've made further modifications. Remove the custom ad blocker rule(s) and the page will load as expected.