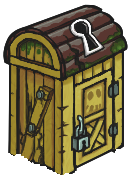 "Farm feeling a little cramp? Keep it nice n' tidy with storage buildings! Store away old stare items, and spice up yer farm with new stuff."
The Shabby Shed is the first of the storage items. It might be able to hold a few things, but it doesn't look very pretty.

Level Required: 8
Size: 3x3
Description: Store stuff in here!
Cost :8,000 Gold
Life Force: +9
XP: +40
Text: Store stuff in here!
Total slots: 8
Other notes: It comes with Version 0.77
Ad blocker interference detected!
Wikia is a free-to-use site that makes money from advertising. We have a modified experience for viewers using ad blockers

Wikia is not accessible if you've made further modifications. Remove the custom ad blocker rule(s) and the page will load as expected.