Released: 26th June 2012
---
Appstore Description;
"MYSTERY BOXES
Get great loot at discount prices, including the exclusive Corgi pet!
PET PEN
Now you can have more pets on your farm at once with the Pet Pen!
NEW INVASION REWARD SYSTEM!
Watch in awe as bags of gold fly out of defeated foes! If your lucky, you may win up to 50 Brains!
CHINESE LANGUAGE SUPPORT
Now you can play Zombie Farm 2 in Chinese!"
(Appstore Update Picture)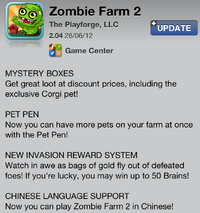 New Items
---
Ad blocker interference detected!
Wikia is a free-to-use site that makes money from advertising. We have a modified experience for viewers using ad blockers

Wikia is not accessible if you've made further modifications. Remove the custom ad blocker rule(s) and the page will load as expected.