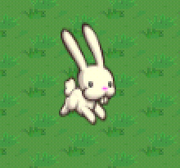 "A cute bunny, your friend forever."
The White Bunny is the first pet in Zombie Farm. He will follow you on the farm. You can earn him by completing the 99 Red Balloons Easter Quest. After doing the quest you will need to get him from the Storage. After that, your bunny will hop wherever you go!
You can get him only in Version 0.87
Description: A cute pet. It will follow you.
Ad blocker interference detected!
Wikia is a free-to-use site that makes money from advertising. We have a modified experience for viewers using ad blockers

Wikia is not accessible if you've made further modifications. Remove the custom ad blocker rule(s) and the page will load as expected.