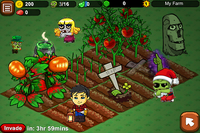 "Tired of killing zombies? Try farming them!
Farm, grow and harvest your very own zombie farm! Pick up your plow and choose from a rich selection of crops and corpse to plant and harvest in this quirky farming game. Then fight zombie prejudice by unleashing your horde of lovable living-dead on the neighbors!"
~ Zombie Farm 1
DOWNLOAD The #1 FREE Farm Game just got better! Now with MORE BRAINS!
~ Zombie Farm 2
Ad blocker interference detected!
Wikia is a free-to-use site that makes money from advertising. We have a modified experience for viewers using ad blockers

Wikia is not accessible if you've made further modifications. Remove the custom ad blocker rule(s) and the page will load as expected.