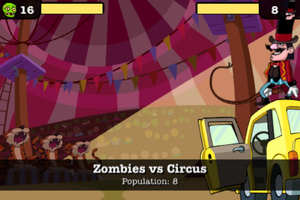 "Better tell the circus to stop clowning around. Your zombies don't like that."
General
Requirements: Level 12
Population: 8
Winning: Ringmaster's minions were just circus peanuts to your zombie horde!
Losing: This ain't no time to be clowning' around! you'll need tougher zombies to take down the Ringmaster, so get farming'!
Gold (Without casualties) : 1200
Possible Bonus Gold : 600
Minions
Mini Clowns
Power: 2

Life: 8

Speed: 3

Attack: Smash with hammer
Circus Bear
Chance: 12.5%

Power: 4

Life: 8

Speed: 1.5

Attack: Smash with double fist
Ringmaster
Throwing: megaphone, monocycle, stool, clown

Throwing speed: 18 item / 27 secs.
Spoils
In addition to the spoils shared by all enemies, beating the Ringmaster has several unique spoils:
Others
For strategy please read the Invasion Guide.
This invasion was added in Version 1.05.
Ad blocker interference detected!
Wikia is a free-to-use site that makes money from advertising. We have a modified experience for viewers using ad blockers

Wikia is not accessible if you've made further modifications. Remove the custom ad blocker rule(s) and the page will load as expected.